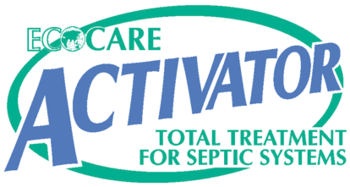 ECOCARE ACTIVATOR
- TOTAL TREATMENT FOR SEPTIC SYSTEMS
Ecocare Activator is a total treatment for septic systems. A scientifically developed blend of natural ingredients, grease dispersants and biological stimulants that kills odours on contact, cuts through grime, breaks down grease and fat, and restores and maintains a healthy bacterial balance in your septic system.
Ecocare Activator provides your home with genuine Total Treatment protection as it cleans, clears and conditions, all in one go.
Waste systems rely on the action of naturally occurring bacteria to break down waste. However, harsh cleaners and detergents can quickly kill off "good" bacteria and upset the balance of your septic system. With too few bacteria, or the wrong type of bacteria your systems efficiency drops dramatically. Smells develop, waste is left unconsumed and blockages become more frequent.
Save